Alcohol & Pregnancy
Drinking alcohol during pregnancy can cause brain damage and birth defects in the baby. During pregnancy, there is no safe time to drink, no safe kind of alcohol and no safe amount of alcohol. In fact, the safest choice is to stop drinking before pregnancy. For more information, see:
Alcohol and Pregnancy FAQs (PDF 37Kb)
Alcohol and Pregnancy Fact Sheet (PDF 41Kb)

Pregnant? Planning a pregnancy?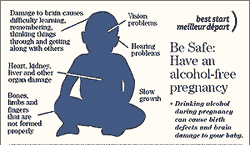 Alcohol harms many parts of your baby.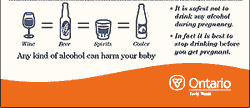 Any kind of alcohol can harm your baby.
Choose an alcohol-free pregnancy.
Help is available if you need it:
Contact:

Motherisk 1-877-FAS-INFO (1-877-327-4636)
Your health care provider
Your local health unit
The INFOline for facts about Ministry of Health and Long-Term Care, 1-866-821-7770

Link to:

Motherisk Website
Online Journal about FAS
National Database of FAS and Substance Use During Pregnancy Resources
FAS Toolkit
Public Health Agency of Canada
Best Start Resource Centre
DART: The Ontario Drug and Alcohol Registry of Treatment